Kovair ALM
Kovair ALM Studio is an integrated, collaborative, and mouse click-configurable platform that offers holistic capabilities to all phases of Application Lifecycle Management including Project Management, Requirements Management, Development, and Testing & Quality Assurance. Powered by capabilities like end-to-end traceability and real-time reporting using the data from all phases of the lifecycle, Kovair ALM Studio provides a Single Source Truth for all users involved in each of the lifecycle phases.
Kovair ALM with capabilities like task-based workflow coupled with notification and business rules, enables organizations to implement and enforce a centralized governance across all the phases of a project lifecycle. This leads to elimination of manual handoffs between teams, cost reduction, process automation across various lifecycle phases, and enhanced product quality by ensuring compliance with different industry standards.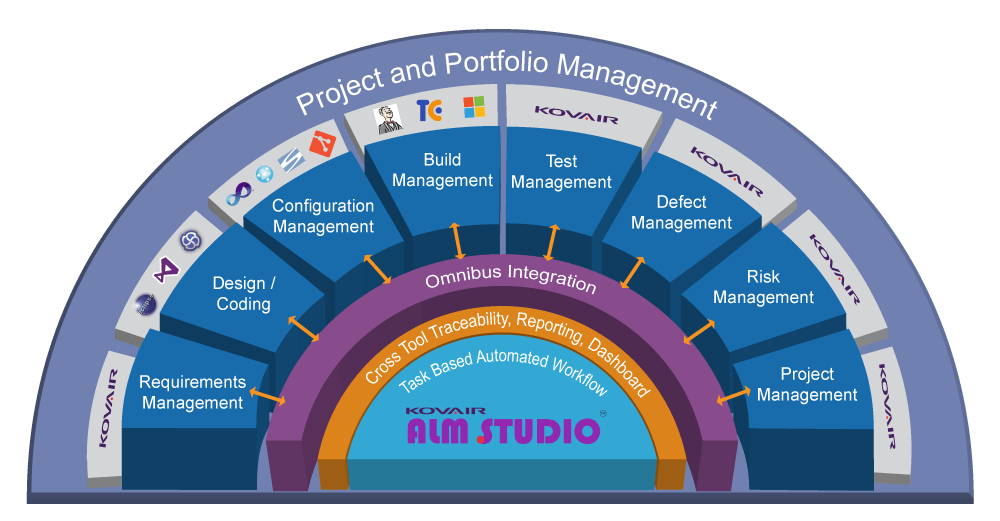 Value Propositions for the Kovair ALM Studio Platform
Integrate third-party and open source tools through Omnibus.
Implement CI, CD, and DevOps.
Obtain built-in Reports, Dashboards, and Analytics.
Manage multiple projects with a single database.
Improve release predictability with real-time metrics.
Align requirements, development, testing and release in a single integrated ecosystem.
Enable total process control through the Kovair Workflow Engine.
Achieve higher ROI with integrated tools ecosystem and continuous usage of tools and improved productivity.
Cross-tool traceability providing better release predictability and change impact analysis.
Schedule-based test automation script execution enabling Continuous Delivery.
Key Highlights of Kovair ALM
Centralized Web-Based Interface for all phases of Application Lifecycle Management. Task Based Workflow Engine featuring visual drag-and-drop workflow designer cutting across all phases and tools for better governance.
End-to-End Traceability offering complete view of forward as well as backward traceability (linking) of artifacts — belonging to different lifecycle phases — from Kovair application or from other external tools integrated with the ALM platform.
Unified platform for managing portfolio, projects, requirements, design, coding, testing, defects, risks, and releases.
Efficient resource and project planning
Extensibility through REST APIs
Mouse Click Configurability Over Browser Based Interface.
Configurable Business Rules with E-mail based notifications.
Real-time reports and dashboards for easy view of metrics across all application lifecycle phases and tools.
Controlled change management with proactive and reactive impact analysis.
Automated Versioning and Audit trail for achieving different development standards
Integration with 100+ tools from different vendors and phases of ALM, ITSM, & PLM
Test Data
Test Data
Test Data
Copyright ©2020.All Rights Reserved.